[Recent News: Quick Gameplay Thoughts 7/15 / Devs Spill the Beans: Aurelion Sol Gameplay Update]
The PBE has been updated! As we start the 12.14 PBE cycle, today's patch includes splash & loading screen tweaks, loot assets, and more tentative balance changes!


Continue reading for more information!

(Warning: PBE Content is tentative and subject to change - what you see below may not reflect what eventually gets pushed to live servers at the end of the cycle! Manage your expectations accordingly.)
Table of Contents
Splash Tweaks
Star Guardian Syndra Prestige Edition splash art tweaked waist & necklace: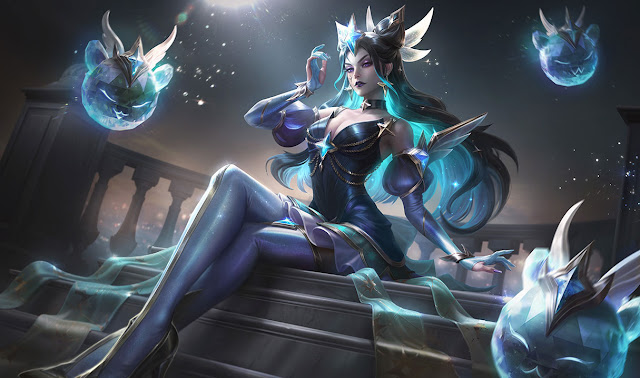 [Old]
Star Guardian Rell loading screen tweaked (zoomed out):
Miscellaneous
Star Guardian Jinx Mythic chroma tweaked: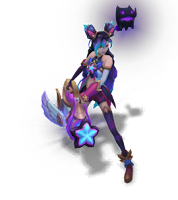 Balance Changes
* NOTE*: The PBE is a testing grounds for new, tentative, & potentially experimental changes. Be aware that what you see below may be relative to other changes from earlier this cycle! These are not official notes and may be incomplete.
Champions
Alistar
Pulverize (Q)

cooldown lowered from 15-11 seconds to 14-10
mana cost lowered from 65-85 to 55-75
Gnar
Base health lowered from 580 to 540
Health regen growth lowered from 1.75 to 1.25
Jarvan IV
Dragon Strike (Q)

bonus AD ratio increased from 120% to 140%

Demacian Standard (E)

cooldown changed from 12 to 12-10
LeBlanc
Base mana increased from 344 to 400
Mana growth increased from 50 to 55
Distortion (W)

base damage increased from 75-215 to 75-235
Pantheon
Comet Spear (Q)

monster damage lowered from 120% to 105%
Qiyana
Edge of Ixtal (Q)

Monster damage

reverted

from 180% to 150%
Renata Glasc
Base health lowered from 595 to 545
Base AD lowered from 51 to 49
Seraphine
Surround Sound (W)

shield AP ratio lowered from 35% to 25%
heal AP ratio lowered from 6% to 4%
Teemo
Mana growth increased from 20 to 25
Noxious Trap (R)

AP ratio increased from 50% to 55%
mana cost lowered from 75 to 75-35
cast range increased from 400-900 to 600-900
Varus
Base AD increased from 59 to 62
Wukong
Cyclone (R)

AD ratio

reverted

to from 120% to 110%
Zeri
Burst Fire (Q)

[

Removed

] Uncharged attack deals 6x damage to targets below 35% max HP
[

New

] Uncharged attack now executes minions below 120% base AD
ItemsMagical Footwear
Bonus movespeed

reverted

from 5 to 10
Sunfire Aegis
Immolate passive

base damage lowered from 12-30 to 12
HP ratio increased from 1% bonus HP to 1.5% bonus HP
Chemtech Chainsword
Total cost increased from 2600 to 2800
Emberknife
Challenging Smite damage reduction lowered from 20% to 10%
Summoner SpellsExhaust
Damage reduction changed from 30%-40% to 35%
Teleport
Cooldown

reverted

from 420 to 360
Context & Notes
1) Here's Riot Truexy with a changelist for healing changes now testing on the PBE:
July 15, 2022
2) Here's Riot Phroxzon with a changelist for 12.14 Balance:
Healing outlier nerfs, pro bloodiness changes, GP nerf to top end barrels and our regular balance changes (with focus on Pro meta) are coming to 12.14.

It'll be the last set of major changes sans World's balance and we'll be otherwise stabilizing + moving everyone to Preseason pic.twitter.com/daWFAhETzh

— Matt Leung-Harrison (@RiotPhroxzon) July 16, 2022
3) He also provided a preview for champion balance in 12.14:
Honing in on changelists for Patch 12.14.

We're pulling the Teleport changes and are focusing on stability for the rest of the season. Expect smaller patches as we head towards the end of the year (outside of World's patch).

Healing and Pro Play lists are in earlier posts. pic.twitter.com/1tBG0rX3v8

— Matt Leung-Harrison (@RiotPhroxzon) July 19, 2022
4) As well as a Gangplank changelist for 12.14:
GP for 12.14. Intent is to weaken his lane power early, move some of his crit incentives out of barrels and into more committal dmg, but still bias him towards crit. We experimented with several adventurous crit incentives, but ultimately decided he didn't need it and went simple pic.twitter.com/TklKTvcwwT

— Matt Leung-Harrison (@RiotPhroxzon) July 19, 2022
Check out [THIS PAGE] for a comprehensive list of the new content & changes currently on the PBE as a part of this cycle or catch up with the individual update links below !


[Click here to SUPPORT S@20 by purchasing your Star Guardian skins using our affiliate link! Active through August 9th, you can visit our collection page to pick up select skins and a portion of that purchase will come back to us! #LeaguePartner] Quelle: http://www.surrenderat20.net/2…plash-loading-screen.html