Today's red post collection includes the Patch 11.15 & TFT notes, a new TFT cinematic celebrating Dawn of Heroes, progression identity changes, a competitive gameplay update for the mid year, a new Client Cleanup update, and a ton more!

Continue reading for more information!


Table of Contents
Patch 11.15 Notes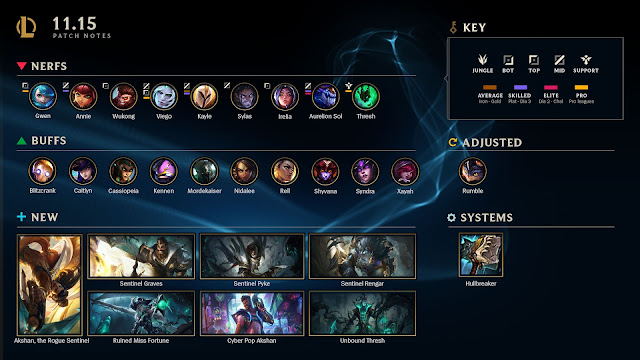 The patch 11.15 notes are now available:
"Saddle up Sentinels, welcome to 11.15!
Nothing too wild here— we're continuing to drop early sustain in a few places, then buffing up champions in places that are a little spicy and a lot fun (Blitz! Kennen! Xayah!). We've also got balance changes and updates for Ultimate Spellbook, including the addition of a certain rock's ult.
Add in a Sentinel with a glorious smile and a chain warden's skin (literally) and you've got the gist of it!
We'll see ya in the next one.
Take this portal to the TFT patch notes where Dawn of Heroes, our mid-set full of Sentinels has begun!
TRICIA "

MOM CAT

" TAN

HANNA "SHIO SHOUJO" WOO"
Teamfight Tactics Patch 11.15 Notes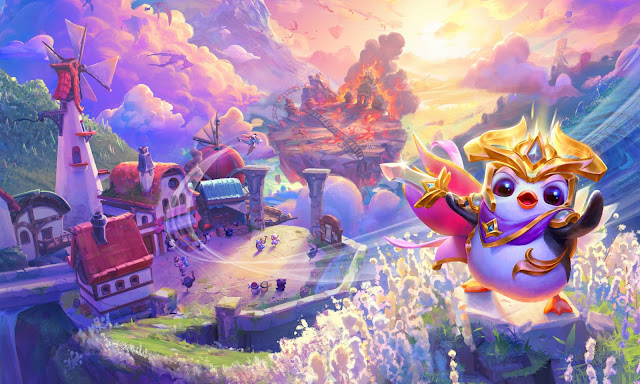 The Teamfight Tactics Patch 11.15 notes are now available:
"Welcome to the Dawn of Heroes!
Alright heroes! I hope you're early risers, cause it's dawn and we got a host of new traits, champions, and mechanics to dive into! So grab your favorite Radiant Item cause I reckon' it's time to put the Black Mist to rest and embark on a whole new quest! There's just so much to uncover with Dawn of Heroes, like all the rewards you can earn with the Reckoning Pass II and Reckoning Pass+ II, all the new mechanics , and who could forget about the new champions and traits. And even after all that writing, and all your reading (you're very good at it btw), we've got more to share! So to help you, these notes will serve as another breakdown, with cosmetics and new stuff at the top, and changed/returning stuff at the bottom.
Let's venture forth!
RODGER "

MINIONSRPEOPLE2

" CAUDILL"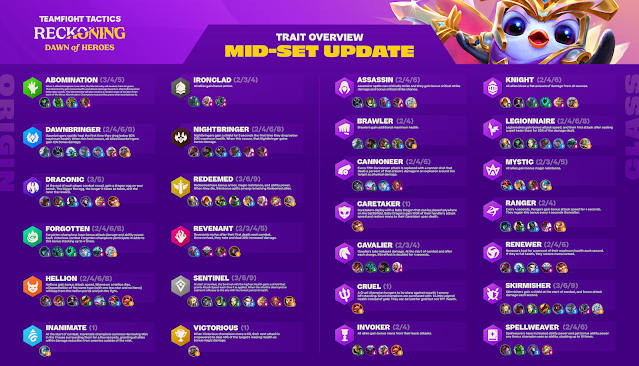 Into Tomorrow | TFT Dawn of Heroes Launch Cinematic
Here's a new TFT cinematic celebrating the launch of Dawn of Heroes!
"From the darkest night comes the brightest dawn.
A brighter tomorrow has finally arrived. Brave this new world and banish the remnants of the Reckoning once and for all."
Progression Identity Changes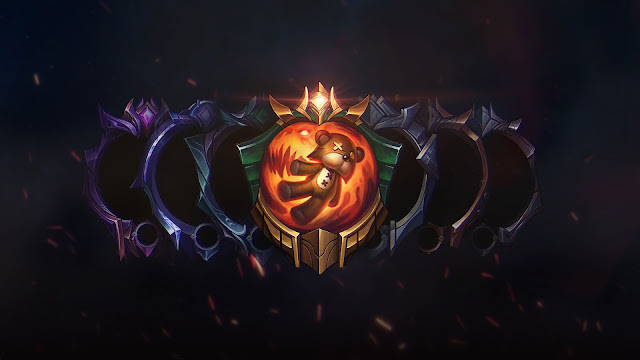 Here's the latest on some upcoming customizations from Riot Codebear - " Our thoughts on identity explorations we're looking at for later this year and beyond.":
"What's up, everyone. Cody "Riot Codebear" Germain back again with some details on identity and customization explorations we're looking at for later this year and beyond.
In League, there are a variety of ways to show off who you are as a player: play style, role identity, Summoner Icons, Summoner Name, Prestige Level (border), rank, favorite champion, etc. It's a lot! We bucket all these different ways into something we call "Progression Identity."
With the intent to add more Progression Identity elements in the future to better show off who you are, it's essential that each unique item we add fits with the intended League of Legends style and meet our visual quality bars for both fantasy and clarity. In addition to that, we want you to be able to clearly select elements that match your play preferences without jumping through hoops to do so.
That being said, we've come to the point where current Progression Identity options are not adequately representing all the elements of a League of Legends experience and what makes League special to every type of player. As such, we're in the concept and design phase for what the next generation of your personalization could look like. In this post, we'll briefly cover some of the different identity pieces and visual upgrades we're examining to provide some first glance looks and context of the work-in-progress concepts for feedback and direction from you.
Goals
In striving to give you the best Progression Identity choices that fit their needs from a myriad of available possibilities, we're looking at updating our current roster of personalization elements with the following considerations in mind:


Allow players more agency over their identity so they can show off their personal League brand more clearly
Refresh some of League's core identity features alongside new system styles for 2021 and beyond
What We Have In The Works
We're looking at some of the following adaptations later this year and beyond directly related to the current Progression Identity components as well as new system content.
Identity Customization: It's been years since we integrated Ranked Regalia and Prestige Level changes to the League ecosystem, and we still haven't provided a way to clearly select some of the borders that fit you the best. By the end of this year, we're targeting the release of full identity customization. This will allow players to pick the borders, icons, and a few new personalization options being developed alongside our TBD new systems.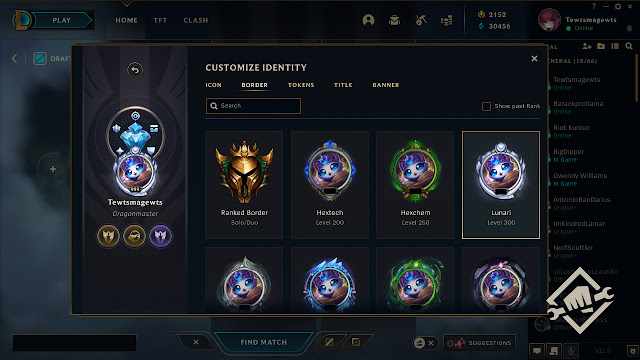 UI Updates to Gameflow: Alongside some fairly large system introductions to the in-and-around-game experience, we wanted to clean up some of the old and untouched styles throughout our gameflow screens: lobby, loading screen, and end-of-game. In doing so, we can bring our aging art style into 2021 and carve out some space for some new and unique content types.
In the below proposed concept, you can see a large influence of the old style in the lobby with map accents and background images remaining relatively untouched. However, we're also trying to reduce the noise of some of the more distinct elements like unused banners in gameflow screens and clunky footer UI in the client to focus on identity components that allow you to stand-out when you're queued up with friends, teammates, or just loading into game.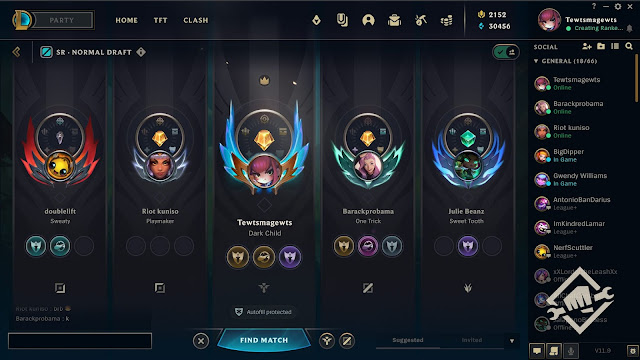 Above: In this screen we're toying with different concepts of how a player can see themselves and others in the lobby screen. You'll notice exploration of different ranked tiers and prestige levels accented by new crystals and tokens to really customize how others see you. 
It is our hope that by focusing on clear core identity features like ranked emblems, level, name, and icons first, we can bring the rest of the client or around-game experience up to par a little ways down the line with limited additional effort. This lets you express who you are on the Rift earlier.
Ranked Emblems and Regalia: In many ways Ranked achievement is seen as synonymous with your core League of Legends identity. The metallic borders and intricate helmets have become a standard for competitive prowess and players who have reached their tough milestones are celebrated in a universally recognizable way.
As such, when approaching what an updated style of Ranked identity looks like, our primary goal is to make sure that we're not diminishing the sense of value and achievement, no matter what the tier. Additionally, we're being very careful to explore options that retain the recognizability of the tiering at a glance and ensuring that the older, intricate, metallic style translates seamlessly into something equally as impressive.


In this potential design, we're attempting to remove the complex texture and faction alignment that you see with current regalia options. Though simple in approach, removing the texture and faction element allows us to be able to build on top of Ranked tiers further as a core piece of your identity. Moving more towards the emblematic wing shape will allow for some re-usability across the game experience and combination with other gameplay systems to tell a more complete player story.

It is the intent of these concept explorations to drive what we think is the next direction for identity as a whole—with a careful and clear nod to the past iterations. You'll see in this direction that though we've replaced the helmet shape, we still get the overall feeling of the regalia's core with a new energy showing growth radiating from the metal.
Prestige Levels: Prestige Level borders are something that held a lot of promise artistically, but when it came to customization, we dropped the ball. Players that had earned something that they had felt resonated with them were no longer able to display that content when they achieved a new prestige tier. First, we'd like to rectify that situation by allowing players to select any of the level borders they feel resonate with them. In addition to that, we're exploring a world where these levels also move in a similar direction to ranked in the form of wing elements to be transferable across all the places identity is surfaced. What success looks like here is a refined solution that doesn't lose any of the quality of the previous iteration and compete with other identity features in a detrimental way.

Before and (Potentially) After

New Content Types: Lastly, alongside some of our new systems slated for this year and beyond, we're looking to include additional, earnable unique content types that players can display as a piece of their identity. These content types, shown below will represent different flavors of how you play League.


Titles are slated to make their way into the game to be earned from unique actions taken in League over time. It is our hope that we can expand on your feelings of agency and immersion in League by offering both skill representation titles alongside lore and thematic expression through this content type.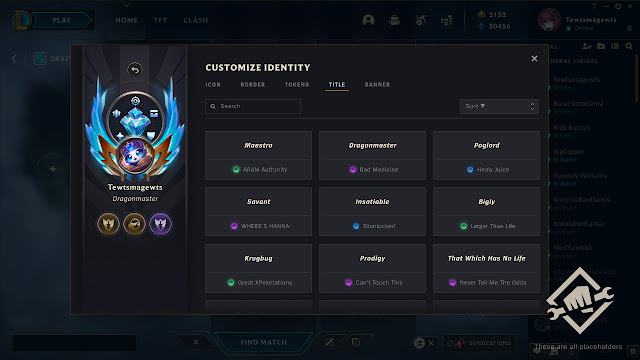 Identity Crystals, an identity item and not to be confused with the Gems you earn from crafting, are planned to be a summary of players overall footprint in League, and are designed to follow a similar tiering as other competitive systems. The idea here is that the Hextech crystal displayed will grow in power as a representation of your growth in all of League play.
Banner accents, something that we're looking at to replace the unused banners in the loading screen and lobby, are still in ideation, but we hope that they will be a nice personalization option for players to really show off some of the detail of their personality outside of the game.

Conclusion 
We're excited to have the opportunity to talk about these changes rather early in the process. This allows us to not only gather your feedback about the direction, but also sets the stage for other conversations as we get closer to some of these changes going live.
Speaking of feedback, tag us on @loldev on Twitter with any and all thoughts on what we've shown here today! Though please note, the concepts we're showing here are very much works in progress. But our artists and development teams are eager to deliver the right experience here, so constructive feedback and discussion is welcomed.
As always, see you on the Rift!"
Competitive Gameplay - Mid Year

Riot Codebear also went in detail on behavioral & competitive systems - "Thoughts on the current state of behavioral & competitive systems on gameplay and where we're going.":

"The last time we talked about the competitive direction of League was specifically about Clash. Between then and now we've been focused on Behavioral Systems rollouts and sustainable development of services like Matchmaking and the Leagues system. We've also been working with the League Client team to find system instabilities like champ select failures and game start hiccups, and squash them out. We have big plans for the future of competitive systems, and keeping our existing services up to date allows us to drive forward on new improvements. With that upkeep effort trending down, let's take a look at some of the core issues we're prioritizing on competitive gameplay.
Where Behavioral Systems is Now
In our last Behavioral Systems update, we called out dodge and AFK penalties as our focus areas and promised followup comms in mid-July, a.k.a. this blog. We recently shared a standalone update on dodge penalties (a bug set us back so changes begin rolling out next patch, 11.16) and we'll share a similar update on AFK penalties in a few weeks. As a result, the content here is on the lighter side.
Organizationally, we're looking to further expand the size of our Behavioral Systems team on League in ways that will allow us to pick up more juicy projects. These include focusing on a sub-set of following problems within our initiative goals.
Detection and Penalties
"Reduce the frequency of disruptive behavior"
Further Confidence Based Reporting: We've seen positive results from our intentional feeding confidence methodology, and early testing indicates we'll see similar improvements by rolling this out to other disruptive behaviors like hate speech, verbal abuse, and AFKs. (For the first two, the benefits will stack with the upgrades to our text evaluation systems.) This will involve heavy collaboration with central service teams who work on all Riot's games, so our progress will be slow, but we're still aiming to have this out in 2021.
Verbal Abuse Detection and Punishment: With our behind-the-scenes machine models constantly actioning on intentional feeding and AFKs, we have a bit of an opportunity to look at verbal abuse issues and assess what newer text evaluation systems can bring to the table. We're setting aside a bit of time to work with our sibling team, Central Player Dynamics, to explore our options, and we'll share more information on timelines once we identify a specific solution to pursue.

Harm Mitigation
"Reduce the impact of disruptive behavior on other players"
Champion Select Reporting - Penalties: We've talked about this across the past 9 months, and had promised that it was "coming". Unfortunately, we've been unable to make that promise a reality. For now, we're looking at what we can do to hook up champ select reports to post-game report categories (and penalties) where corresponding categories exist. Later on in the year, we hope to get our systems into place to issue penalties and mitigations directly in Champion Select. We'll focus on immediate action in Champ Select, including deterrent solutions for game impacting picks/bans, potentially including scenarios where we can kill the lobby immediately. We don't have a confident bead on when we can get the latter in place, but we're prioritizing the former in penalty integration as soon as possible.

We are grateful for the patience as we scale up the team. We know this is a frustrating part of playing online multiplayer games and we're committed to making long-term systemic solutions work for all players, not just individual instances.
Where Competitive Gameplay is now
Last preseason, we implemented a suite of improvements to Ranked that brought individual skill identification very close to where we want it to be. Across the board, we've seen significant improvement in match quality in ranked play where 99% of ranked matches pair opposing teams that average within half a division of each other, and teammates themselves are within ~1 division of each other. This only improves the closer you get to peak player hours during the day.
We're very happy with where these have landed, and now we're ready to jump into more targeted, smaller percentile problems to polish down our rough edges. This includes making some existing Matchmaking functions more responsive to changing conditions, modifying our decay policy, and even some long overdue review of social experiences. Let's take a look at the different topics.
Matchmaking
"Improve queue matchmaking quality without compromising queue time or availability"
Dynamic Position Popularity & Autofill: Position popularity fluctuates throughout the day, but our current algorithm isn't performing to the standard we want it to. Early testing indicates that by improving the way we calculate position popularity, we can potentially reduce autofill rates as low as ~0.6% of all games, down from the current ~2-5%. Not only are we expecting to see large autofill gains, we've also seen strong signals that this will reduce queue times by up to 10% across all MMRs.

That would be a huge win across the board, especially for players that specialize in one role. The main thing we need to validate before we can ship these improvements is that secondary role rate doesn't increase substantially, but we're committed to getting these out to players as soon as testing completes.

Premade Skill Balance: In 2020, we shipped Premade Parity to balance out premades across teams. We're looking at adding additional filters to specifically improve skill balance between each team's premades.
Dynamic Map Side Advantage: In a perfectly even skill matchup, map side advantage could mean that blue side has a very slight advantage due to meta shifts, which matchmaking corrects for by fielding a red side team with slightly different matchmaking filters. The impact of this map advantage can shift, or even reverse, from patch to patch. We're looking to make matchmaking's side correction dynamic as well, so we can automatically adjust as advantages change.

Ranked
"Improve progression satisfaction and skill expression in our systems."
Ranked Decay: Apex tier (Master+) and high Diamond players that take a few weeks off from League are decaying further than we'd like, down to visible ranks that are extremely off from their skill level. This creates an odd mismatch type purgatory that can be demotivating to play in. Though the intent of decay is to ensure that only the current best players are represented at the top of the ladder, it isn't the intent to send those that have decided to take a few weeks off down to a place that they don't belong. We're looking into better options for decay rate that we can roll out in a low-disruption way before the end of the season.
Social Comparison: Ranked leagues with people you don't know, and almost never see in games, are hard to feel a connection with. We're experimenting with a more personal social comparison leaderboard right where you need it—directly in the ranked lobby. You'll see the first iteration of Social Leaderboard show up soon where we can then evaluate any additional improvements to make to it based on player feedback. We're excited to see the competition between friends and acquaintances heat up during the climb.

Competitive Rewards 
"Make rewards more recognizable and relevant for time spent in League."
Flex Rewards: Since last year, we've seen more and more players spending a significant amount of time and effort climbing with their group in Flex. This season, we're going to be offering two versions of each per-tier chroma, one for Solo/Duo and one for Flex. This change better differentiates these two achievements and offers teams that climb in Flex something to shoot for that sets them apart.
Clash Rewards Visibility: Getting together with your crew and tackling the gauntlet of Clash is thrilling, and exactly how we think League should be experienced. However, we've seen indications that once you lose your first two games in a tournament, it's hard to find the motivation to continue on. Part of the reason for this behavior is that we haven't done a great job (or even a good job) of showing you what's still at stake, both within that specific tournament or across the entire season.

Be it a snapshot of the trophy soon to be sitting in your award case, banners and loot display per win, or even the long-term VP track that signifies your achievement across the season, we haven't carved out the space to really highlight what you're shooting for. We're in development on some small enhancements for the current season, and we're looking to target more improvements going into the 2022 season so players know what they're going after right from the start of the tournament

We're buckling up for what is promising to be an exciting second half of the year. During which, you'll see more updates coming regularly so we can keep you up-to-date with our competitive progress, as well as what new things are coming your way. As always, happy climbing, and we'll see you on the Rift.
-Cody 'Riot Codebear' Germain"
Client Cleanup: Chromium Embedded Framework (CEF) Upgrade Coming Soon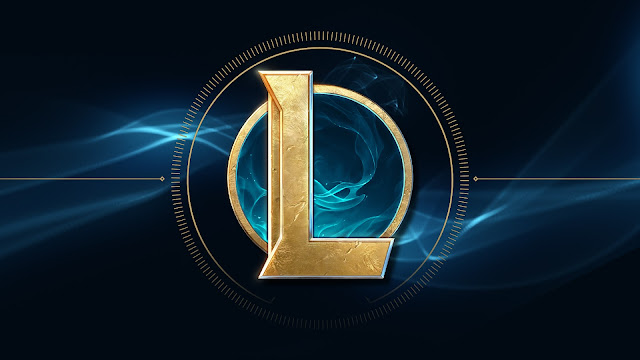 Here's Riot Am1t with the latest blog on the Client Cleanup initiative - "Our new CEF version will hit PBE next month.":
"We've made a commitment to share recurring updates on the work we're doing to improve the performance and reliability of the League Client.
Today's update is the eighth blog in the series. (See the first, the second, the third, the fourth, the fifth, the sixth, and the seventh here)

No TL;DR this time; our post is short because we're just updating you on how the big priority from last time is going.
Updating Chromium Embedded Framework (CEF)

Our top priority right now is updating the client's version of Chromium Embedded Framework (CEF)—the web browser at the heart of the League Client's architecture. The last time we updated CEF was November 2019 (version 74); at the time of writing, the latest current version is CEF 91. Updating CEF to version 91 will reap a host of benefits, from reduced crashes to increased compatibility to better responsiveness and more. It is the single most impactful individual change we can make to improve the client.
Since we last talked in April, we've been upgrading our existing web components (think website tech for video embeds, popup notifications, and whatnot) to versions that are compatible with new CEF versions, to ensure upgrading CEF itself won't break anything. We use web components in nearly every part of the client code base, so this took a couple patches longer than planned. The good news is that we're done with the web components work, so we can move on to the CEF upgrade itself.
We're now testing the new version of CEF internally, and we are already seeing improvements in memory usage, and CPU utilization for our front end. We expect a host of other benefits that will ultimately provide a better player experience when we launch, but we also don't want to create risk by rushing things. We have a big opportunity to do right for you all, and we want to make sure the upgraded client is stable before we release it live.
We feel confident about getting our CEF update into PBE by early August and hope to launch a few patches afterward. When the update goes live, we will announce it in the patch notes!
Other Updates


Revisiting End Of Game (EOG). We are still in the process of identifying what improvements we can make to End Of Game (EOG), which is an area we will jump back into once CEF has been upgraded. EOG is frequently reported as a client pain point so we are going to continue investigation and prioritize this work for the remainder of this year, and will work with other teams to see what improvements we can make.
Client stability during long sessions. One of our emergent focuses at the end of last year was addressing memory leaks, which cause the client to take up increasingly more memory as players play multiple games or leave their client idling for long stretches of time. (Good news here is that the CEF upgrade will help stability.) Digging deeper into client bug reports, we noticed many players only experience issues if they have left their client open and/or resume using the client after coming out of PC sleep. We are working on a feature that will automatically close the client while in game if it takes up too much memory, to provide a refreshed client experience when the client relaunches into the post-game screen.

That's all for this update! We will check back in with you after our CEF upgrade to share results and our plans moving forward."
Updated Min & Recommended Specs for LoL & TFT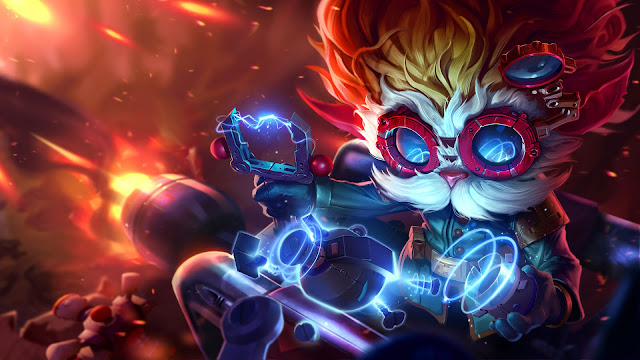 Here's Riot Aperoll with updates on spec requirements for LoL & TFT - "We're updating the minimum and recommended specs required to play LoL and TFT on PC and Mac.
"Hey everyone! Starting patch 11.17, we'll be updating the new minimum and recommended system requirements for League of Legends and Teamfight Tactics. You'll find the new recommendations as listed below:

Why is Riot doing this?
As with other difficult decisions we've made in the past like deprecating XP and Vista, continuing to release new content while maintaining older hardware requires significant investment both from a development and a testing standpoint. By removing some of these barriers, we can continue to push the boundaries of new features while delivering engaging player experiences.
How will I be affected?
If your current hardware meets or exceeds the system requirements then great! No further action is needed on your part. If it doesn't, you'll still be able to play League of Legends and Teamfight Tactics, but at your own risk. For Mac users however, there will be a hard requirement of OSX 10.12. Anything prior will not be able to launch the League client."
Miscellaneous
"We've heard your feedback on the progression rate in Rise of the Sentinels, so we're releasing an update to help players catch up.
On July 22, we're adding a repeatable mission that grants 600 points for playing a game of PVP Summoner's Rift, ARAM, Ultimate Spellbook, or TFT."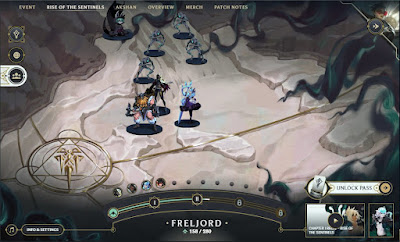 "The Champion Collection is now available at Target for US pre-orders. Featuring multiple points of articulation across 4" and 6" sizes, you'll be able to customize posing for your favorite champions.
Explore the Collection: https://bit.ly/3ze8tVk"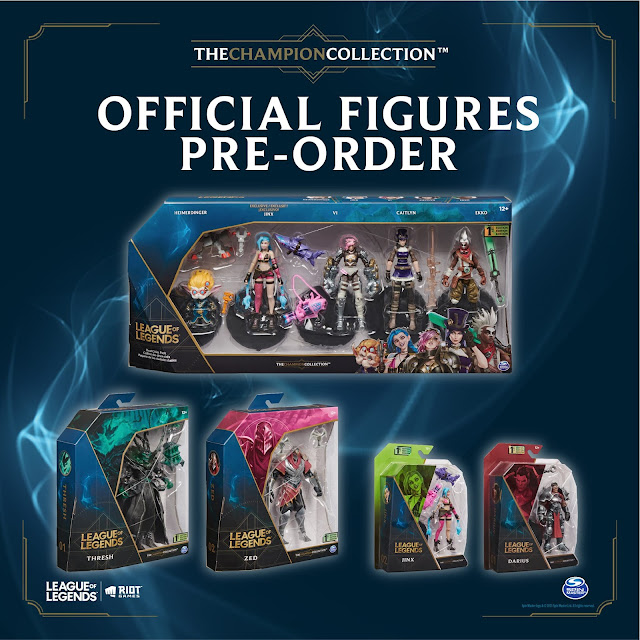 Other Games
Wild Rift
There's one place the Black Mist can't reach: Durandal Academy. 😉 The deeper the darkness, the brighter the light!

Available July 22 @ 5:01pm PT.
🌟 Battle Academia Ezreal
👓 Battle Professor Graves
❤️ Battle Academia Lux
🗡️ Battle Academia Katarina pic.twitter.com/9oHhBSlrZg

— League of Legends: Wild Rift (@wildrift) July 18, 2021
"Game director Alan "Mirross" Moore is (briefly) saved from Ruination to shed some light on the upcoming Patch 2.4, releasing at the end of July."
"Much like living in Runeterra right now, developing League comes with its fair share of surprises and challenges. Here are two behind-the-scenes stories about bringing Thresh and Viego to Wild Rift."

"Events can take up to a year of planning, design and development. Get a glimpse behind the scenes about how an event in Wild Rift gets made!"

"Mirross shares the current development focuses for the team. Read on for updates around matchmaking fairness, lag and ping spikes, win trading, and more things to do in Wild Rift."

"We've made plenty of announcements about our tournaments, but haven't spoken too much about our goals. Join the Head of Wild Rift esports as he reveals his vision and philosophy for the game's competitive ecosystem."
Legends of Runeterra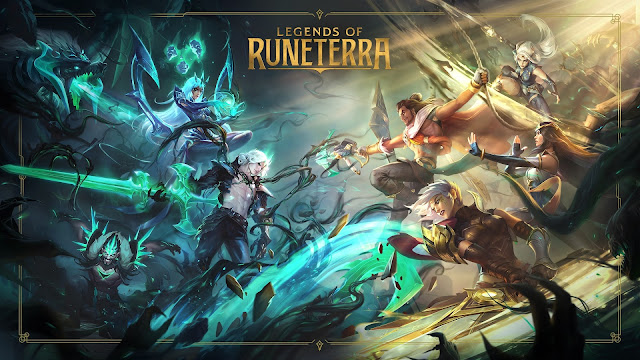 "Fight for your side and help your allies push forward! Can Ruination make a comeback against Sentinels before August 10th? Keep working on that Sentinels of Light Event Pass and find out:
http://riot.com/3wIZxWj"
[Back to Top] Quelle: http://www.surrenderat20.net/2…ction-patch-1115-tft.html